We all dream of a lucious, spa inducing bathroom space. Maybe with a rain shower, a large soaking tub, a chandelier, or maybe even a decadent chaise to lounge on. Whether or not your bathroom is living up to this fantasy, there are ways that you can optimize our space to live up to its full potential. From carefully choosing your color palette and essential fixtures, to employing a few clever visual tricks, you can use some or all of this tricks to make your bathroom seem twice as large.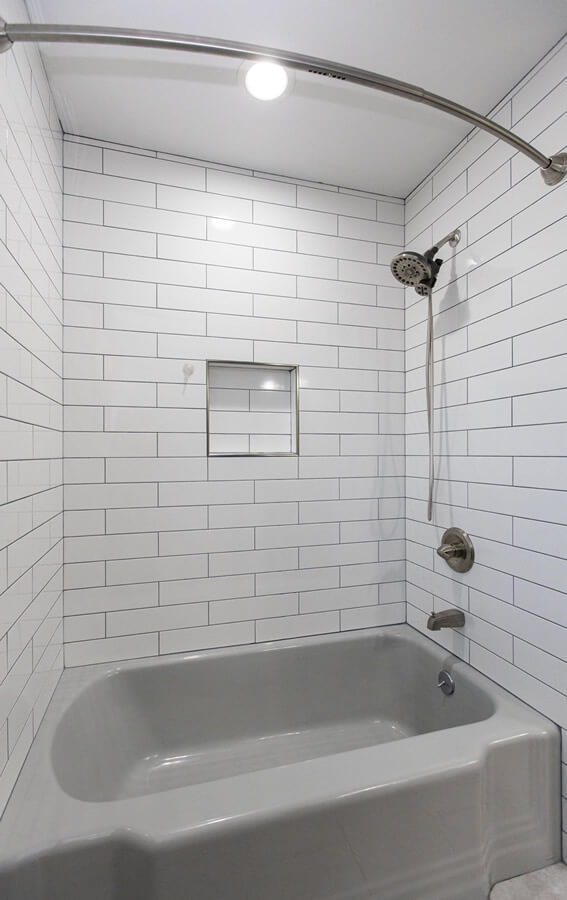 1. Use White on White
One of the simplest ways to make your space look bigger is to use white on white. White tile, white tub, white vanity, white paint, and so on. This non-color naturally recedes, making the space look bigger. It also reflects light, rather than absorbing it. 
Considering that most fixtures in a bathroom are already white, this also creates a very seamless and clean look. 
It'll make your space appear as airy as possible. This doesn't mean it has to lack texture though. You can incorporate different textures with molding, pale stone or tile, fabric accents, as well as including different materials, such as wood. This will also give your space a richness to take in.
2. Use a Floating Vanity
In a tight spaced bathroom, it can be difficult to get both storage and fulfill your desire for room to breathe. A floating vanity can be a great option for those tight spaces. It gives you lots of space to store your daily essentials, but the peek of space underneath gives to illusion of more space. Plus, having a little extra room to plant your feet can make a world of a difference.
3. Less is More
If maximum storage isn't important to you, maybe put in a smaller vanity. If you don't have enough space for a bathtub and a shower, maybe pick one or choose a bath/shower combination. Finding ways to leave a little bit of negative space will make the room feel more open. If your toilet or tub is directly next to your vanity, you'll likely appreciate feeling a little lessed stuffed.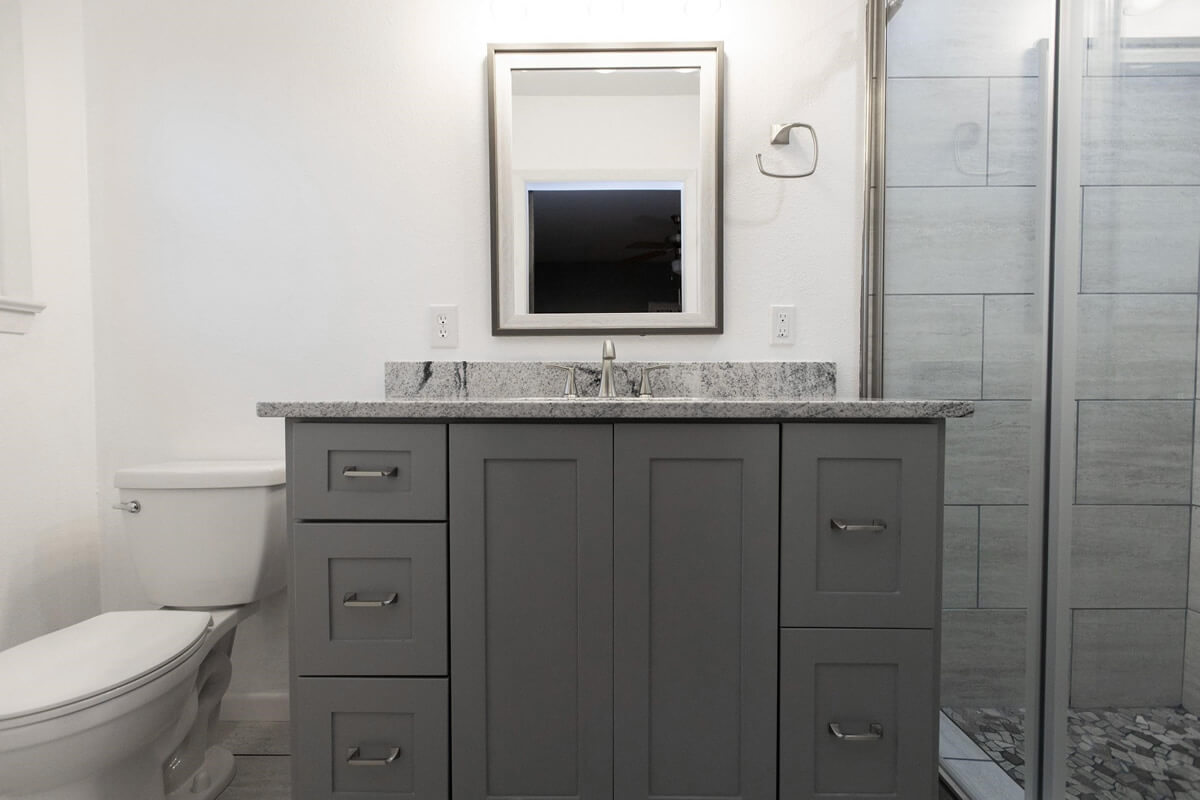 4. Go Big With Your Mirror
A large mirror can double the size of your space, especially in a bathroom. A very large mirror can get a bit expensive, but compared to the price of tiling a wall, a mirror can actually give you a more dramatic effect for a better value. 
Splurging on a mirror with a beautiful frame or a custom-sized mirror that goes wall-to-wall can be so powerful that you'll need little else to make the room feel completely finished. This can be especially effective in small bathrooms with little space to cover.
5. Use a Glass Panel
A glass panel can be another great way to expand your space. By replacing your shower curtain with a glass panel or door, the entire square footage of the room will be visible, thus giving it a bigger look. 
If you prefer more privacy, you can use frosted or tinted glass, which will still allow for light to filter through so that you still get to experience the feeling of more space and no claustrophobia. 
If you prefer the shower, maybe skip the tub all together and install just a shower stall instead. They're easier to get out of and removing the tub will save precious room in your bathroom.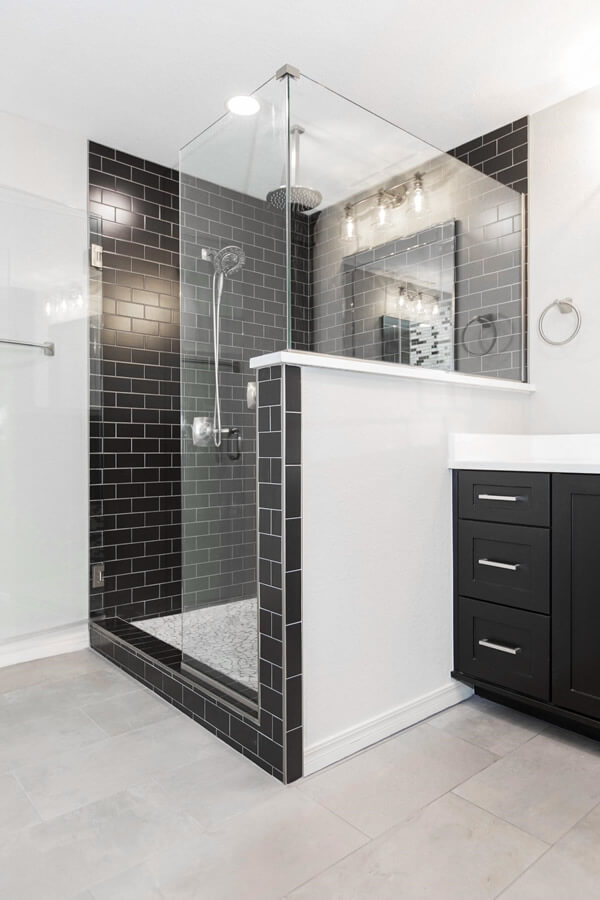 6. Find Your Niche
Sometimes having a little extra space can go a long way. Adding an open niche not only steals some empty wall space to use as storage, but it adds a lot of visual depth that makes the walls appear further than they are. 
If you don't love open shelving, use that niche space as an inset cabinet and get all of the functional storage without the protruding object. This will make the vanity space feel much more open and give you more elbow room. 
Keep in mind that plumbing, studs and other hidden features can affect where you can and can't open a niche. You should definitely consult with a professional before you try to open any walls yourself.
7. Put in Bright Lights
Lighting can make or break any space visually. Having good lighting is important to make any space look big and open. In bathrooms, which often don't have much natural lighting, having good lighting is especially important. Plus, in a bathroom you need good lighting to do things such as shave or apply makeup effectively, so it's importance isn't overstated. 
For these reasons, it's important to have a rich lighting scheme, preferably with lights in various places. Ceiling lights, as well as sconces, or a contemporary light-edged mirror will help you avoid shadows and will keep the space bright and open. 
In small bathrooms with only one location for a light fixture, try changing your ceiling light to one with multiple bulbs so you have light coming from several directions.
8. Create a Low Profile
If you want to add some drama or personality to the space without visually shrinking it, just look down. Maybe try adding some dramatic elements with a lower profile, such as the vanity or floor tile. Do this and keep the elements around your eyeline more simple and open. This will give the space a lot of character, while still maintaining a sense of openness. In fact, having a dark or vibrant color near the floor can make the upper half of the room feel more airy and open by contrast.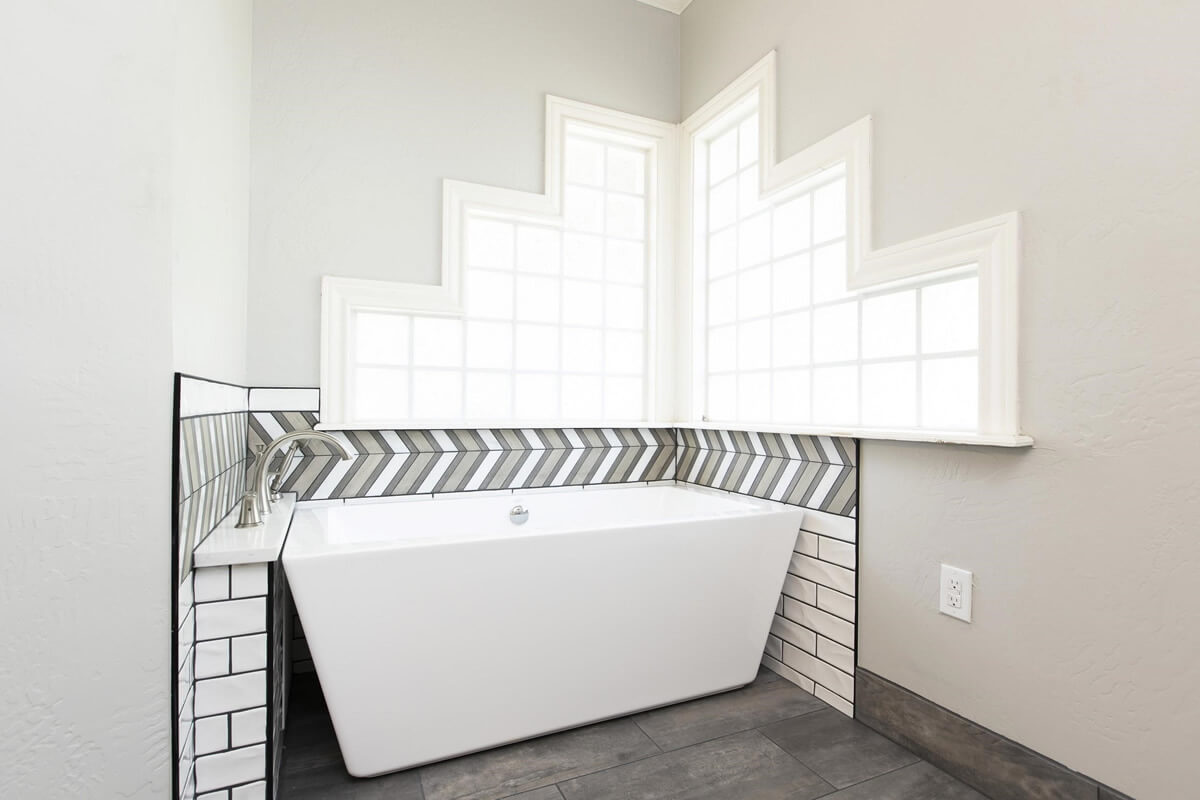 9. Visually Push the Walls Apart
If your bathroom is already very long and tunnel shaped, consider emphasizing the width even more. Work against the length of the room and use tile patterns and details to visually stretch the width. 
The bathroom above uses the direction of the band of accent tiles in the bathroom to visually extend the width of the space.
10. Emphasize the Height
Sometimes bathrooms are truly too small to enhance the width, so instead of working against its natural design, embrace it. Instead of trying to make it look bigger horizontally, use the height as the largest dimension and emphasize it. 
Using vertical elements such as a long mirror or a bold accent on a skinny wall can enhance the height of the space. Add some delicate lights or little black and white tiles and you'll create a visual experience to keep the eye moving from floor to ceiling.